The EPIEM network …
… is consisting of an open-minded as well as a motivated group of active, closely linked and communicating IEM professors working at European universities who are strongly involved in teaching operations and academic research.
… members work in a multidisciplinary field of science at the interface between technology, sociology and economics.
… has strong connections to (i) student networks (e. g. ESTIEM), (ii) academic (e. g. TU Austria) and semi-academic/professional IEM alumni networks (e. g. IEM Caring Foundation, ESTIEM Alumni) as well as (iii) private firms and institutions in practice across all industries.
… is looking after the needs of partner institutions and the interests of its members (note: who are solely professors at universities) that are in turn willing to support the network voluntarily and non-remunerated with activities that support the EPIEM vision.
… is avoiding duplication of activities and does not overlap with other activities undertaken by partner institutions or partner networks.
… is able to "survive" independently and sustainably within the "IEM family" (European Network of Industiral Engineering and Management) because of motivated and supportive IEM professors.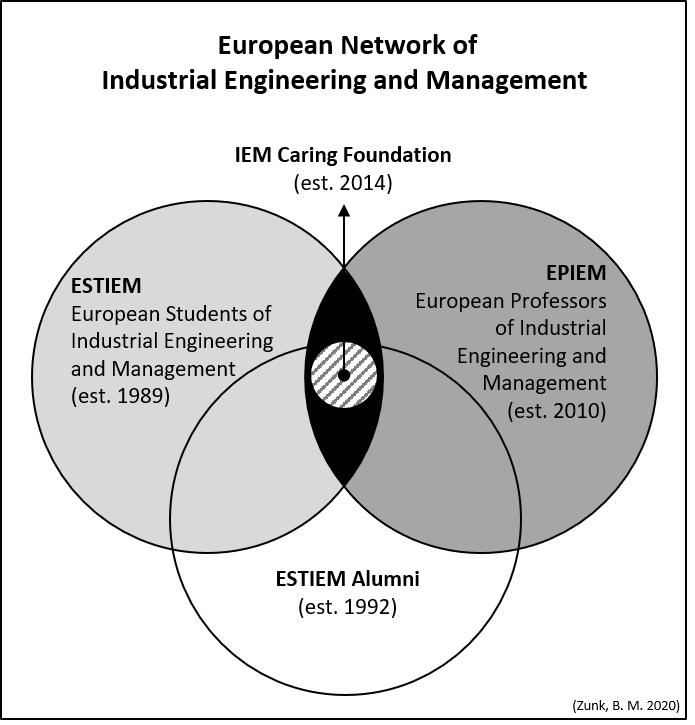 ---
EPIEM Network: Status quo
EPIEM perceives itself as a virtual university network, consisting of European Professors at the following universities:
EPIEM also has strong relations to the following partner networks:
ScAIEM (Scandinavian Academy of Industrial Engineering and Management http://www.scaiem.org/): ScAIEM gathers scholars of the IEM field in Sweden, Denmark, Finland, Iceland, and Norway. IEM is one of the largest, most popular, and most successful fields of engineering education in Scandinavia with, currently, more than 85 academic programs at Bachelor and Masters levels at 35 universities in the five countries. In this context, ScAIEM represents approximately 650 scholars representing more than 25 of the most prominent IEM departments in the Nordics.
---
EPIEM quo vadis?
If you are interested in linking your University or your national network of universities (like "TU Austria") or your national association of Industrial Engineering and Management (like the IEM Austrian "WING" – www.wing-online.at)  to EPIEM, please contact us.
The current EPIEM members are really looking forward to welcome motivated IEM academics as new members in the EPIEM network!